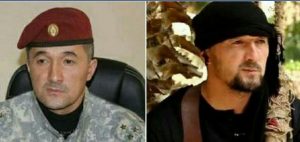 Several Daesh members were killed during airstrikes by the Russian army in eastern Syria, Russian army vowed today.
A command post and a communication center were completely destroyed and some 40 Daesh fighters were killed, following air raids in Deir ez-Zor areas, Russian defense ministry said in a statement. Quoted from Euro News.
According to the report, the name of Abu Mohammad Alshamali, known as "Emir Deruluzor" and also Gulmorad Khalimov, known as Daesh interior minister, are among the ISIL commanders who were killed in the operation.
It should be noted that Khalimov, former head of Tajik police Special Forces, joined ISIL forces in Syria two years ago, betraying to his country and abandoning the police.
Washington had previously awarded a $ 3 million prize for arresting this Tajik shooter, who had spent five special courses in the United States and Tajikistan between 2003 up to 2014.