Ahmad Zia Massoud, the head of the Grand National Coalition (GNC) said during a press conference Saturday afternoon that "government authorities have no political will to defend the lives and properties of the people, rather it cooperates with terrorists."
---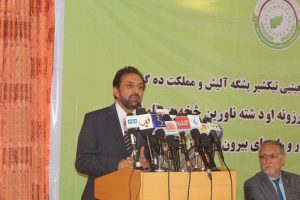 Ahmad Zia Massoud, the head of the Grand National Coalition (GNC) said during a press conference Saturday afternoon that "government authorities have no political will to defend the lives and properties of the people, rather it cooperates with terrorists."
"Ghazni province fell to Taliban due to the incompetence and lack of attention by the government officials and the security forces as they were aware of the potential risks of a Taliban attack on Ghazni," Massoud said. "a number of elements are within the government decision-making ranks that have started deals with the Taliban under the name of the peace process, which this betrayal has put the security forces in a defensive status for over four years."
The head of GNC said Taliban group is extending their influence in the center and provinces every day, adding that "there is precise information that terrorists have placed themselves in every corner of Kabul, intending to attack."
Ahmad Zia Massoud called on the people to be ready and have no hope for this government as the government is in close coordination with the Taliban group.
"there is a suspicious relationship between the government and the terrorists as we witness tragedies in Kunduz, Baghlan, Farah and Ghazni provinces every day," he added.
Massoud further said there are some agents within the government that intentionally help the Taliban financially and militarily.
The chairman of GNC underlined that he has proofs that Karzai administration has provided 450 million afghanis to the Taliban once, and this situation is ongoing in the current government as well.
According to Mr. Massoud, the GNC believes that the existing political system, created by the sacrifices of the Afghan people and the unfailing cooperation of the international community, should not be the victim of non-national opinions of a number of adventurous, self-centered and ethnocentric elements.