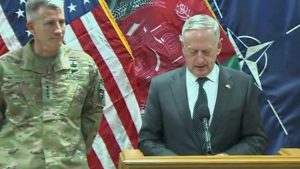 James Mattis, U.S defense secretary described Taliban as savage enemies and pledged that America and Afghanistan will defeat the group.
According to (DID) news agency report, yesterday, America's defense minister with Gen. John Nicolson, commander of NATO resolute support mission vowed in a press conference that he has traveled to Afghanistan to check the status and talk with the Afghan authorities.
"I am discussing with Afghan leaders about Afghanistan to give the best assessment and advice to President Donald Trump," U.S defense minister said.
It is noteworthy that previously, H. R. McMaster, national security adviser to president Trump had also traveled to Kabul and talked about security and military issues with Afghan Officials.