In response to rumors on reaching agreement with presidential palace (ARG), Ata M. Noor said in a message: "all of this news is unfounded and we reject it."
---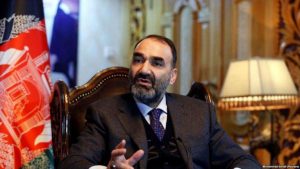 In response to rumors on reaching agreement with presidential palace (ARG), Ata M. Noor said in a message: "all of this news is unfounded and we reject it."
"Today, a news is getting around on social media about my removal as Balkh governor. All of them are baseless and we deny it," Mr. Noor wrote on his official Facebook page.
"I emphasize that as long as the legitimate demands of Hezb-e Jamiat are not met, there is no open and hidden deal," Balkh governor stressed.
"I stand on my commitments. We will negotiate and the leadership of Jamiat party will take the final decision," he added, "Balkh is the last issue that will be discussed in the talks."
According to him, Hezb-e Jamiat and its leadership council take the final decision in talks with the presidential palace.