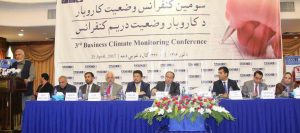 The third Business Climate Conference was held in Kabul by the Afghanistan Chamber of Commerce and Industries (ACCI) and the Afghan-German Cooperation's program for Sustainable Economic Development and Employment Promotion (SEDEP).
Representatives of the private and public sectors met to discuss the business climate in Afghanistan. Two surveys on business trends and barriers for investment–The Business Tendency and the Business Bottleneck– served as the basis for discussion.
They provide information on the business climate in Kabul, Balkh, Kandahar, Nangarhar, and Herat and cover five economic sectors; manufacturing, construction, trade, services, and agriculture. The documents describe the lack of infrastructure, complex tax system, insecurity, customs problems, lack of skilled labor and the under-representation of women as main challenges for Afghan businesses. However, businesses identified recent developments such as the establishment of a one stop shop for business registration, the government's approval to issue visas on arrival for investors, and the promotion of a dispute resolution center for Afghanistan as positive steps. Quoted from (Wadsam).
The ACCI uses the surveys' results to inform the Afghan government about necessary steps and reforms for an improved business climate in Afghanistan. This way, the Afghan government can include the private sector's input in its policy making. The ACCI devised both surveys, with technical support from Germany's Sustainable Economic Development and Employment (SEDEP) program.
Over 150 participants including high-ranking officials from various Afghan ministries, such as the Ministry of Commerce and Industries (MoCI), the Ministry of Agriculture, Irrigation & Livestock (MAIL), the Ministry of Economy (MoEc), the Ministry of Finance (MoF) and the Ministry of Interior (MoI) attended the conference. The project "Sustainable Economic Development and Employment Promotion" (SEDEP) is financed by the German government and supports various activities to strengthen businesses and create jobs in Afghanistan in the following five value chains: nuts, dairy, poultry, wheat and vegetables. Apart from training and infrastructure development initiatives, the project also helps to establish dialogues between public and private sector actors. Farmers and government can address concerns and draft policy recommendations to improve economic opportunities.