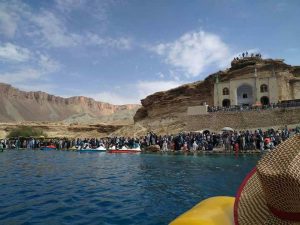 Band-e Amir is one of the prominent landmarks and one of the natural attractions, located 75 kilometers northwest of Bamiyan province.
These beautiful natural landscapes were selected as the first national park in 2009, which the number of visitors to this park is increasing every year.
According to DID news agency report, every year, the number of tourists and visitors have doubled and attracted many domestic and foreign tourists, according to Band-e Amir officials.
However, local department officials say that the record number of tourists registered at the office is more than 125,000 people so far, but the visitors are above the forecast number of the department.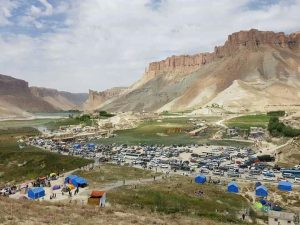 Abdul Rahman Ahmadi, the spokesman for Bamiyan province told DID news agency that the statistics of domestic and foreign visitors have risen sharply in recent years, showing a big difference comparing to last year.
Sayed Ali, a resident of Band-e Amir said: I am a traveling salesman for nearly 8 years. I see the number of tourists coming from inside the country or abroad is increasing.
"Although little facilities have been provided during recent years, tourists still face a lot of problems," he said.
Meanwhile, the visitors criticize the lack of equipment in the park and said: sightseers who come here from distant provinces do not have a safe place to stay at night and few hotels that have been built, take a huge amount of money from their poor services.
Mohammad Jawad, who came from Mazar-e Sharif to Band-e Amir, said: visitors, specially those who come from distant provinces have a problem finding accommodation.
Jamila, another tourist said: "many people are drowning in Band-e Amir every year, but the local administration of Bamiyan province has not had recue devices."
She urged that local administration to provide diving equipment to avoid drowning events that could lead to deaths.
On the other hand, many tourists say that Bamiyan's local administration has promised to concrete 14 kilometers of Band-e Amir road, but has not fulfilled so far.
Head of Bamiyan's public affairs engineer Mohammad Anwari said that the budget of concreting Band-e Amir road has been determined and its project will officially begin after the completion of administrative tasks.
Band-e Amir – which is consists of seven natural bands – that was chosen as the first national park in the year 2009, visited by many tourists every year.