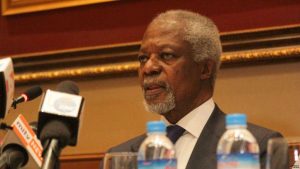 Former U.N. chief Kofi Annan said that U.S. President Donald Trump should reach out and talk to Iran, which by signing a nuclear deal with six major powers and re-electing President Hassan Rouhani is trying to reach out to the world.
Annan, who heads a group of former leaders founded by Nelson Mandela called The Elders, said if he had the chance he would tell Trump his antagonistic policy toward Iran, including labeling it the enemy and a purveyor of terrorism, isn't going to do anything to bring peace to the Middle East. Quoted from (Fox) news agency.
He said in a telephone interview with The Associated Press that "Iran is part of the solution" to the conflicts in the Middle East, including Syria and Iraq, "and we cannot get away from that fact."
The Elders put out a statement Tuesday welcoming Rouhani's re-election "as a sign that the Iranian people clearly desire peaceful relations with the outside world and a more tolerant society at home.
However, Donald Trump on a recent trip to the Middle East has been urging Arab leaders to join Israel in opposing Iran, citing its destabilizing activities in Syria, Iraq, and Yemen.
Kofi Anan said that Mr. Trump should reconsider its approach to the Middle East.