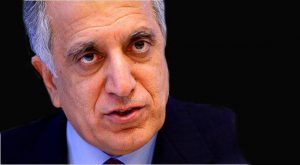 Zalmay Khalilzad, former U.S envoy in Afghanistan and a diplomat has said that America besides cutting its aid to Pakistan, should prevent World Bank and IMF's assistance to that country.
Mr. Khalilzad in an interview with BBC said: decreasing U.S troops by Barack Obama administration was a mistake and called on the current president to impose sanction on Pakistani authorities who have relations with the terror network.
The American diplomat accused Pakistan of two-side policies against America and added: on the one hand, Islamabad receives a lot of aid from America to counter terrorism, but on the other hand, equip terror groups that fight against Americans.
He also called on Trump's administration to impose limitation on those Pakistani officials who have contact with Taliban and Haqqani network and should confiscate their assets.
It is noteworthy that Trump administration had warned Pakistan in its new strategy to give up backing Taliban and Haqqani Network.