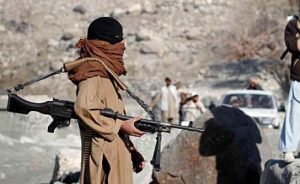 A senior American general in Europe, accused Russia of supporting Taliban.
He said that due to the extent of Taliban control in the south of Afghanistan, it is likely that Moscow is helping this group.
Gen. Curtis Scaparrotti, US commander of NATO forces in Europe, expressed the issue at the meeting of the American Senate armed services committee.
"I recently have witnessed an increase in Russian influence over the Taliban insurgency, that the increasing influence is not only on the level of communication, but it may even be in the range of supply sources." He said.
Earlier, the Russian foreign ministry besides dismissing allegations of financial support, military assistance and participations in the establishments of training camps for the Taliban in Afghanistan, had said, circles inside and outside Afghanistan want to undermine the important role of Russia in the fight against terrorism in the country.
Russian foreign ministry says such moves follow "to pervert minds of Afghan people and international community from mistakes, which have been committed in the presence of 16 years foreign troops in Afghanistan."
Often in such a situation, it is difficult to correctly judge about verification of either party claims, in accordance with what is there, but this point is quite clear according to analysts that Russia's influence over the Taliban is rapidly expanding and this is something that Russia in a sense accepts and confirms it.
But Russians say that this does not mean to legitimize the Taliban and nor Moscow intends to provide financial and arms sources and fields of education for Taliban fighters; but the aim of Russia, is just to maintain the security of Russian citizens, and to help fight against Daesh (ISIS) and establishing peace and stability in Afghanistan.
However, America is deeply pessimistic about Moscow's intensions and goals behind Moscow to increase its sphere of influence over Taliban, and evaluates this measure as a new effort from Moscow to unsettle the order and international security in favor of extending new Russia's hegemony in line with Vladimir Putin's global authoritarianism.
From the explanation, this question seems quite serious that whether America is concerned about the emergence of the Russian version of Taliban in Afghanistan?
This question can also be posed in a different way, and it is whether Russia is trying to seize Taliban against Daesh (that Russia and its allies, call it the US version of terrorism or Terrorism backed by America) and support them as a model of Russian terrorism?
In the complicated situation and impenetrable alignment and confrontation of world's great powers, scarcely can find a definitive and reliable answer for these questions and concerns; but the fact cannot be denied that Russia's entry to clear and hidden games of Afghanistan's security is not counted and auspicious event (at least based on symptoms, which is achieved by the US initial reaction to the event) by the Americans; because even if the fears of the emergence of the Russian version of the Taliban or terrorism in Afghanistan, is an unfounded and without basis fear, this important matter cannot be ignored that Russia's entry into this arena, in a status that America and its allies NATO, have direct and active presence for years, the first consequences of this situation, will be the inevitable confrontation of superpowers in the land of Afghanistan; the same thing that takes victims in our country in various aspects for years and its destructive reflections and consequences are still continuing.
However, there can be only one way out from this horizon of mist and darkness and it is a wise management and a caring presence of superpowers in Afghanistan by Kabul.
National unity government has the ability to guide the situation to its profit and strategic interests, prevent the global superpowers to take hegemonic profit, stop their illegitimate interests and count the authority, security and political stability of Afghanistan the only red line in the realm of its foreign policy and defense strategy and security.