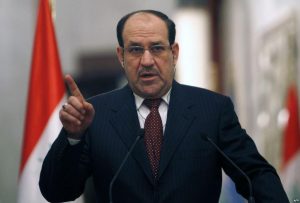 The Iraqi VP says that they will not allow the formation of another Israel in the northern part of Iraq, following a separatist referendum in the Kurdish region of the country.
According to a statement issued by the Iraqi presidency office, following a referendum of separation in the Kurdish region, north of Iraq which is scheduled for 25 September, The Iraqi vice president (VP) Nouri Al-Maliki vowed: "we will not allow the formation of the second Israel in northern Iraq."
Al-Maliki read the 25 September referendum illegal and considers a necessity to postpone or cancel it.
"The referendum is neither in favor of the Iraqi people nor it will benefit the Kurds," he stated.
Meanwhile, the Iraqi PM Haider Al-Abadi at a press conference on 13 September in Baghdad announced that holding a referendum by Kurdish office is contrary to the constitution of the country, saying: "we will never recognize its outcome."
While the Iraqi Parliament has opposed referendum in the Kurdish region, local administrations of Diyala and Salah al-Din provinces also vowed that they will not allow referendum within their borders.
On the other hand, yesterday, White House spokeswoman Sara Saunders called on the Kurdish regional office of northern Iraq to cancel the referendum and establish a constructive and stable dialogue with Baghdad, saying the U.S will not back the referendum on Kurdish region north of Iraq on September 25th.