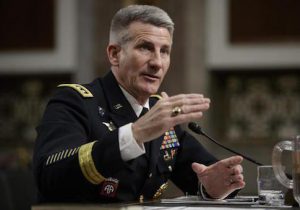 Afghan Special forces along with US forces will launch an operation against Daesh (ISIL) in Northern provinces of the country.
The offensive will be launched in Faryab and Jawzjan provinces in the coming days.
The commander of NATO-led Resolute Support mission Gen. John Nicholson said, the U.S. is committed to destroy ISIL fighters wherever they appear across the country.
"Daesh has been unable to establish a caliphate in Afghanistan, adding there was no evidence of fighters making their way from Iraq and Syria to Afghanistan," Nicholson stressed.
"We have isolated them largely from their outside financing and support and they are having trouble replacing their leaders," he continued.
According to him, ISIL still recruits locally, who are primarily non-Afghans – some members of Islamic Movement of Uzbekistan and many former members of the Pakistani Taliban.
This comes as political and military experts accused the US and Afghanistan's security council of transferring ISIL fighters to north of the country.