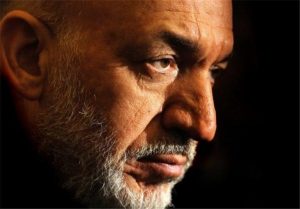 The history of Afghanistan witnessed many contradictory policies that have been taken by domestic brokers. Although, we cannot ignore the influence of powerful countries on forming these policies, but again Afghans themselves are counted as the main actors in the political affairs. The cold war is a typical example in the history of Afghanistan that shows, political officials of that time failed to properly use the status and take on a policy that would lead to national interests. Sometimes asked for help from America and sometimes from the Soviet Union. Shifting the policy of political actors of that time, not only had benefit for Afghanistan, but also its harmful effects have still gripped the country.
Swing political orientation in Afghanistan continued up to a time that a person, who had come to power in Afghanistan with the direct help of Americans, today opposes with their policies and talk about "national sovereignty," which the grounds of corruption was posed at his time.
Loya-Jirga has a referendum state; which means that all people or representatives of the people share that, and when they vote to do something that has been done by national agreement.
Hamid Karzai rejected the people's decision and ignore it with the slogan that Americans should bring the peace in Afghanistan.
This populist rhetoric continued until Hamid Karzai condemns the Americans' attack on "Achin" district of Nangarhar province, with a non-nuclear bomb of the world and considers it a violation of national sovereignty and misuse of Afghanistan's territory.
When Hamid Karzai does not respect the people's opinion and personally decides about important issues, it can be concluded that recent actions of the politician have personal nature, in order to keep away the political, veteran person from the context of the policy.
Hamid Karzai has demonstrated a U-turn against the U.S policies, with these statements. This measure will push Afghanistan to a crisis; because he is not counted as a reference in Afghanistan anymore, to ask the people to stop America in Afghanistan. He just follows this theme to provoke the feelings of the people by sparking patriotic discussions and make himself a champion in their minds, to use them in the future.
However, Hamid Karzai expressed his protest that Afghanistan is not a test site for the weapons of powerful countries, on the condition that the results of this action pose this issue that the operation extremely has crippled the enemy and reduced their power, far from personal interpretations.
Sayed M. Taqi Hussaini – (DID) news agency
Translated by: Taher Mojab