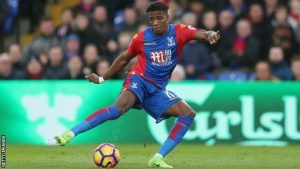 Crystal Palace winger Wilfried Zaha has accused Manchester United and Liverpool fans of calling him a "black monkey" in messages on social media.
The 24-year-old posted on Instagram: "If Man United and Liverpool fans feel better by calling me a black monkey in my messages … feel free to carry on if it makes your day better."
Ivory Coast international Zaha signed for Manchester United in 2013.
Zaha is in Hong Kong with the club for the Premier League Asia Trophy.