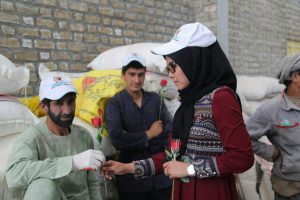 A number of women celebrated Sawr 11th coincident with (May 1st) international Labor Day by going to the industrial companies, giving flower to workers.
According to (DID) news agency report, Marzia Panahi, responsible for the program said that the aim of this program is to honor the efforts of the workers.
"It is a need that responsible institutions try more to pave the way for providing facilities for the workers," Ms. Panahi said.
She also stressed that in the current situation workers need work more than any other thing and some suffer unemployment.
Ms. Panahi urges the government to have a serious program in providing employment opportunities for workers.
The unemployment rate decreased six percent from late 2016 to early 2017 in Afghanistan, according to the survey by the ministry of labor and social affairs, martyrs and disabled of the country.
The unemployment rate was announced forty percent last year.