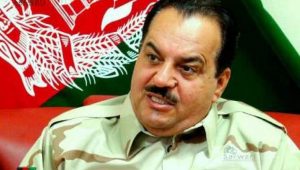 6 persons were detained on charges of assassinating an Afghan election candidate Abdul Jabar Qahraman in Helmand province, the provincial police said on Thursday.
"6 people, including Mr. Qahreman's bodyguards, were arrested on charges of being involved in his assassination," said Abdul Salam Afghan, the provincial police spokesman.
Abdul Jabar Qahraman, who was preparing to contest Saturday's parliamentary polls was killed in his office on Wednesday in the Lashkar Gah city, Omar Zwak, a spokesman for the Helmand governor said.
According to him, another seven people were wounded.
"A bomb was placed below Qahraman's chair in his campaign office," Zwak added.
Taliban claimed responsibility for the attack hours after they released a statement warning teachers and students not to participate in the parliamentary elections due on October 20, and not to allow schools to be used as polling centres.
In the 16th round, he represented from Helmand province in the House of Representatives and for one year served as the advisor to the president as well as being a coordinator officer of the security forces in the province.