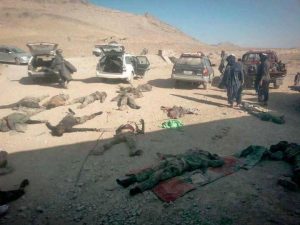 Dozens of Afghan officers and soldiers were shot dead by Taliban in "Chorah" area of Uruzgan province, and now their bodies are the bait of the dogs.
According to DID news agency report, based on the reports on social pages, these forces were shot dead by Taliban due to lack of assistance and negligence.
It is said that dogs ate the bodies of some soldiers and some are still in the area.
According to reports, the number of casualties are 39, and the relevant organs did not respond to the frequent calls about the incident.
These army officers and soldiers were neglected by the central government while the country's national ministry of defense is still run by acting official.
It said that the acting head of the national ministry defense visits the MPs, in order to obtain a vote in the parliament.