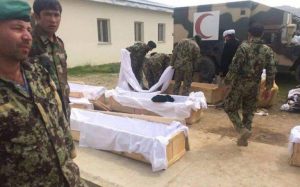 There are reports the real number of Afghan security forces' casualties are hidden by the country's officials, and what has said to the media is not real.
It is said that donor countries specially the United States urges the Afghan government to hide the casualties of the security forces.
Nai – supporting open media in Afghanistan said, countries sponsoring Afghan security forces urge the Afghan security officials to prevent giving statistics on the death of the security forces.
"According to article 50 of the constitution, the right to access information is the right of every citizen. If a person, group or organization opposes this article of the constitution, it must be prosecuted," said the chairman of Nai Mujib Khalwatgar at a press conference in Kabul.
According to him, in the absence of legal information representation in the country, the spokesperson of departments decide which item to share with the media which one not.
"Sometimes, hiding the actual number of casualties about the security forces is part of this issue," Khalwatgar added.
It is noteworthy this is not the first time that media outlets criticize the Afghan officials about hiding the actual casualties of the security forces.