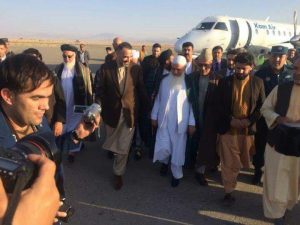 Balk governor, the Chief executive of Hezb-e Jamiat Islami, and a senior member of the Rescue Coalition went to Herat late Monday.
According to DID news agency report, Mr. Noor is expected to meet with Ismael Khan, an influential Jihadi figure in the west of the country and other political faces in Herat province.
It is said that Mr. Noor will attend a press conference and express his views about recent political movements in the country after visiting Ismael Khan and other influential tribal and Jihadi figures in Herat.
Balkh governor's visit from Herat is important in terms of mobilizing Jihadi leaders and influential ethnic faces for upcoming political campaign in west of Afghanistan.
According to sources, Ismael Khan, a member of Hezb-e Jamiat Islami invited Mr. Noor to visit Herat province.
Ata M. Noor is traveling to Herat province while he had previously reported of his possible candidacy in the upcoming presidential election.
General Dostum and Mohammad Mohaqiq, the two key allies of Mr. Noor in the Rescue Coalition will probably back up his nomination for the presidential election.