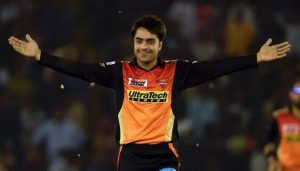 Band-e-Amir Dragons defeated Speen Ghar Tigers by 82 runs to secure their first win in the seventh match of Shpageeza Cricket League 2017 on Thursday.
Speen Ghar put in the bat as winning the toss, Rashid Khan-led Band-e-Amir posted 162-9 as they played all the 20 mandated overs at Alokozay Kabul International Cricket Ground.
Man of the Match Shahidullah Kamal hit 57 off 39 balls while Najibullah Zadran blasted 38 off 15 balls.
Speen Ghar, who had won their first two matches, struggled early in the chase of 163-run target as they lost three wickets in the first three overs. Quoted from 1TV.
They were all out in the 15th over, having piled up 80. Samiullah Shinwari's 24 was their top individual score.
In the bowling department for Band-e-Amir, Tindai Chatara shined taking three wickets. Rashid Khan and Shahidullah Kamal took two wickets each.
In the next match of the tournament, Amo Sharks will face Mis Ainak Knights on Thursday afternoon.