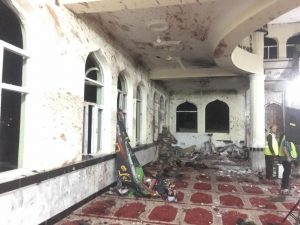 At least 39 people were killed and 45 others were wounded as result of a suicide attack on worshipers at Imam Zaman mosque, 13th district of Kabul, said ministry of interior affairs.
A security source who asked to remain unknown told DID news agency, first two suicide bombers threw hand generate to worshippers, then, another suicide attacker blew up himself.
It is said that one of the attackers fled the area and currently the police is looking for him.
Daesh group claimed the responsibility, siting a statement at Amaq news service.
It is noteworthy that 13th district of Kabul (Dasht-e Barchi) has recently witnessed several bloody events, in which dozens were killed and wounded.