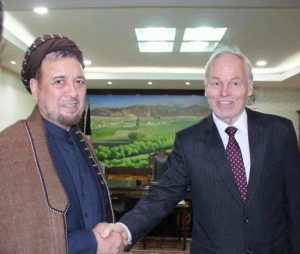 The British ambassador to Afghanistan Nicholas Kay met with the second deputy to the Afghan executive directorate and a senior member of the Rescue Coalition Mohammad Mohaqiq, and stressed on the positive role of Mr. Mohaqiq in solving tensions between Kabul and Balkh province.
The British ambassador also expressed his support for Mosque's security plan, adding that the program could provide the security of Mosques and religious centers.
During the visit, the British ambassador to Kabul Nicholas Kay expressed concerns over the emerged tensions in the country, stressing that internal issues of Afghanistan should be peacefully resolved, so that elections can be held on time.
"Last year, was a bitter year for Afghanistan, specially for Hazara society as attacks on religious centers have taken the lives of many civilians. It suggests that terrorism should be countered seriously and comprehensively," said the ambassador.
He welcomed the security plan for mosques and religious centers and pointed out that its implementation was effective in reducing terrorist attacks.
The ambassador also asked Ustad Mohaqiq to play a positive role in resolving the tensions through negotiation with various movements.
Meanwhile, the second deputy to the executive directorate Mohammad Mohaqiq expressed concerns over the increasing insecurity and spread of terrorist influence in northern Afghanistan.
Mohammad Mohaqiq spoke about the systematic massacres and anti-human crimes committed by the terrorists, especially the ISIL Takfiri group, noting that during the past two and half years, Daesh terror group beside conducting bloody wars and suicide bombing in the eastern and southern regions of the country, had carried out 16 bloody attacks on religious centers, mass-gathering of Hazara and Shia people in which more than 1,200 civilians were martyred and wounded.
Mr. Mohaqiq called for reform in the electoral system of the country, emphasizing that all political, civil, party and world movements should monitor the election.