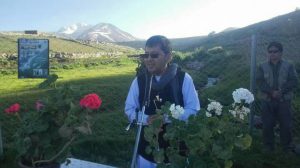 A large number of Bamyan residents, local officials, and the media celebrated World environment day with the slogan "I am with nature."
According to (DID) news agency report, the ceremony was held in "Shah-e Foladi" area, in which the emphasis was on the environment.
Mohammad Taher Zahir, Bamyan governor stated that protecting the environment is a religious, ethical, human and civil duty, considering the environment in developing countries and Afghanistan. He asked the participants of the ceremony and the people of Bamyan to do their duties for the earth and beauties of nature, as a human.
The world environment day was celebrated in Bamyan while a large number of Bamyan residents expressed their concerns about the increase of environment pollution.