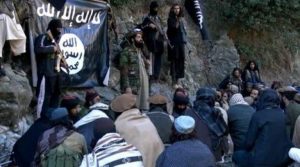 Former chief of national security directorate believes ISIS will not be able to influence in Central Asian countries, because they face serious challenges in Afghanistan.
Afghan national security Chief Rahmatullah Nabil vowed that the recent accomplishments of Taliban is due to differences among the leaders of national unity government and the weakness of the administration, Quoted from Sputnik.
He also shed light on the presence of militant groups in Northern provinces of Afghanistan: "Creating a tense status in Afghanistan-Turkmenistan border and other northern regions of Afghanistan is more tactical."
"The Taliban's scenario against ISIS is wrong, because many militant groups in South Asia are backed by Pakistani army," Nabil asserted.
Former head of Afghan national security directorate claimed the scenario is formed, aiming to decrease international community pressure on Pakistan.
"I do not think this would happen;" he said about the possibility of ISIS involvement in Central Asia, because Daesh faces at least five challenges to achieve it as follows:
1- Afghan security forces bravely fight against them.
2- Religious differences exist between ISIS and Taliban; Daesh follows Salafism, while most Afghans are Hanafi.
3- Afghan traditions contradict ISIS actions.
4- Some Taliban members do not tolerate the presence of other groups in Afghanistan.
5- NATO forces are also in Afghanistan.
Mr Nabil also said, with the help of international community and some regional countries, the victory against ISIS and Taliban is possible.
"Confronting terrorist safe havens and their financial sources in Pakistan will help to create political stability in Afghanistan," he added.
Ex-president of national security directorate declared that changing war status from defensive to offensive, supporting and empowering Afghan security and defensive forces, creating regional and international consensus instead of mistrust and proxy-wars and ultimately helping Afghanistan to take advantage of the situation are necessary for the victory of Afghanistan.