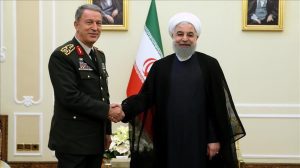 Turkish chief of the general staff Gen. Hulusi Akar held talks with the Iranian president Hassan Rouhani.
During the visit, general Akar said that Iran and Turkey as two important powers in the region can play an effective role in creating stability and peace in the region, through developing cooperation and bilateral relations.
"Turkey respects the territorial integrity of all countries in the region, including Syria and is ready to expand its cooperation with friend countries specially Iran, in order to counter terrorism and instability," he added.
On the other hand, the Iranian president stressed on defense and military cooperation between the two countries, saying that changing geographical borders will lead to increasing insecurity and instability in the region.