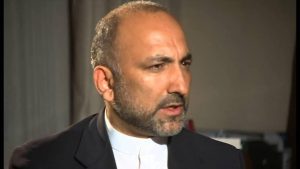 Muhammad Hanif Atmar, national security adviser says that Kabul may approve a strategy that the result will not be in the interest of Pakistan, following Islamabad's unpredictable policy in relation to crossings with the country.
It is noteworthy that last week, Mr. Atmar participated a meeting in London, hosted Britain about solving issues to ease tensions and discussed about it with Sartaj Aziz, foreign affairs adviser for Pakistan's prime minister.
Last evening, Atmar speaking with (Raido Azadi) said that he shared his concerns about Torkham and Spin Boldak borders with the Pakistani side, and his side assured him that the ways of the borders will open soon.
"The gate should be opened, or Afghanistan will take major strategic decisions that the consequences will not be in any way beneficial to Pakistan," country's national security adviser said.
Mr. Atmar also rejected Pakistan's allegations that Afghanistan is involved in scaremongering attacks in that territory and said that "everybody knows where the roots of terrorism is."
It is noteworthy that tensions raised between Afghanistan – Pakistan, when several suicide attacks were conducted in that country and Pakistan charged Afghanistan; the allegations that Kabul rejected.
After that Torkham and Spin Boldak crossings were blocked and political relations between the two countries deteriorated too.