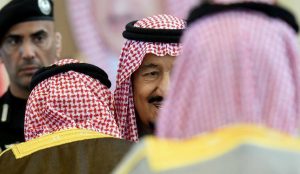 Saudi King Salman bin Abdulaziz Al Saud has fired Crown Prince Muhammad Bin Nayef, replacing him with own son Mohammad Bin Salman, according to the king's decree.
Mohammad Bin Salman, 31, Saudi Arabia's deputy crown prince and defense minister, was named the new crown prince instead of Muhammad Bin Nayef.
Mohammed bin Salman was also named deputy prime minister, and maintains his post as minister of defense. According to foreign media.
This is the first time in the history of Arabia that the government is transferred from father to son; since the establishment of the kingdom of al-Saud, the throne and crown were transferred from brother to brother.
Under the same royal decree, King Salman has also appointed Prince Abdulaziz bin Saud bin Nayef as Saudi Arabia's interior minister while Ahmed bin Mohammed al-Salem was named deputy minister of interior. Dr. Nasser al-Daoud was relieved of his post and appointed as under-secretary of the interior ministry.
King Salman also ordered the appointment of Prince Bandar bin Khalid bin Faisal bin Abdulaziz as an advisor to the Royal Court.