Isis fighters in Afghanistan are communicating with cells in the UK with the aim of potentially carrying out attacks, UK Defence Secretary Gavin Wiliamson said.
---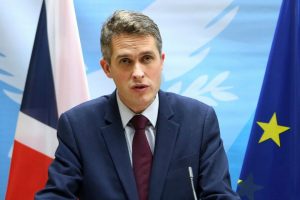 Defence secretary Gavin Williamson gave the government's first confirmation the Afghan wing of the Islamist group known as IS-Khorasan or IS-K poses a direct threat to the UK.
The US military estimates there are around 2,000 fighters allied to the group operating in the country, their numbers bolstered by militants fleeing Iraq and Syria.
"What we see is a real threat posed by these groups to the UK and we've got to be acting as we are to ensure that we do not see future Manchester-style attacks," Mr Williamson told Sky News during a visit to Afghanistan's Mazar-e Sharif city.
"We consistently see terrorist groups operating here in Afghanistan, [and] evidence of their links back not just to the United Kingdom but to the whole of continental Europe."
Isis' grip on Afghanistan has been weakened in recent weeks by the killing of its country head, Abu Sayed Orakzai, according to the US military. He was reportedly killed alongside 10 other fighters from the group.
But General John Nicolson told US Voice of America: "They have been able to replenish a portion of their losses by recruiting from other violent extremist organisations. Despite this recruiting they are losing fighters and losing ground."
Mr Williamson's comments came as an extra 440 British troops arrived in the country, following a request from the US. It brings the total number of British personnel in the country to 1,100, the third largest behind the United States and Germany.