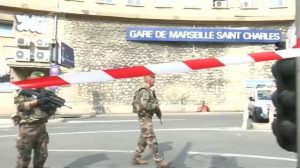 Daesh (ISIL) group took the responsibility of Sunday attack at St. Charles station in Marseille, France.
The attacker stabbed and killed two women in France's Marseille train station. The attacker cut the throat of a woman with a knife and stabbed the other in her chest. Finally, the security forces patrolling at the station shot and killed the attacker. AFP reported.
Marseille's "St. Charles" station was evacuated and the trains were stopped.
The French police said on Twitter that the investigation is ongoing at the station and urged people not to approach the train station.
Although French officials have not yet released any information about whether it is a terror incident or not, a source close to the police said that the attacker was shouting "Allahu Akbar" Arabic for "God is Great."
Right after the incident, French Interior Minister Gérard Collomb vowed that he will immediately go to Marseille to investigate the incident.