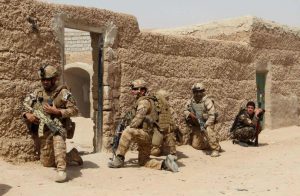 At least 30 people were rescued as a result of Afghan and foreign special forces operation on southern Helmand province on Sunday, army and provincial officials say.
According to DID news agency report, the Afghan security forces raided a Taliban prison in Helmand's Nawzad district.
Those rescued in the raid included four children and two policemen. Twenty of the people had been arrested by the Taliban in connection with helping the government or were family members of Afghan army and police.
Meanwhile, the Taliban said in a statement that the people rescued were criminals accused of robbery, kidnapping, personal disputes and other crimes and were awaiting trial.