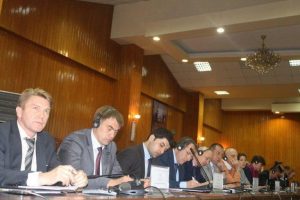 Ministry of counter narcotic with ministry of interior affairs held a meeting entitled "coordination with donor agencies in the fight against drugs," in order to counter narcotic drugs in Afghanistan.
According to (DID) news agency report, the meeting which was held at the government media center, attended by representatives of donor countries, including representatives of U.S embassy, England, and China and it was stressed on a serious, decisive combat against drug phenomenon.
Javid Ahmad Qaem, deputy minister of counter narcotic, considered drug as a major source of revenue for the armed rebels in the country and added, 'these groups have paved the way for continuing war not only with the government of Afghanistan, but also with foreign forces in the country by using the money from the sale and trafficking of drugs.'
Salamat Azimi, counter narcotic minister pointed out the challenges of the ministry in the fight against drugs and expressed hope that the result of such meeting, have provided a serious ground in the fight against cultivation, production, and trafficking drugs.
"The drug phenomenon has broken borders and the drugs produced in Afghanistan smuggled to all countries of the world," she added.
"Combat against drugs in Afghanistan requires the consensus of all donor countries to seriously deal with the evil phenomenon," counter narcotic minister stressed.
"It is not only Afghan people who suffer drug phenomenon, but also this issue threat global peace," Ms. Azimi added.
Baz Mohammad Ahmadi, the deputy interior minister for counter-narcotics also said that counter-narcotic is priority for the government of Afghanistan and the Afghan government has taken all of its efforts with a national master plan in this regard.