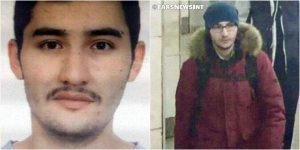 Kyrgyzstan's intelligence agency announced that yesterday's bomber in St. Petersburg, is a Russian citizen born in Kyrgyzstan and named "Akbarjan Jalilov."
Officials of the agency said that they are cooperating with the Russian authorities to develop the research, quoted from foreign media.
No person or group has claimed responsibility for the attack.
It is said that the suspected person (Jalilov) had lived in Russia for six years and originally from "Osh" southern city in Kyrgyzstan…
However, the Russian researchers believe that a suicide attacker was involved in the case.
Research committee has said that they have found pieces of a person's body inside the train that may have been the suicide bomber.
They also added that they have identified the person, but not making the details public.
It is not clear that the statements of Russian and Kyrgyz authorities mention one person or to two different people.
Meanwhile, Russian public health minister said that the death toll rises to 14 people.
Last night, Russia's president, Vladimir Putin held a meeting with security chiefs. It was said that in the early hours of yesterday, he also had a telephone call with American president, Donald Trump.
The White house said in a statement that Donald Trump gave notice in the telephone call, that the US government is fully prepared to respond to this attack and bring the perpetrators to trial.
It has come in the statement that Trump and Putin have agreed that Terrorism must be defeated decisively and quickly.
In the early hour after the explosion, the Russian office of counter terrorism, said that the second bomb was discovered and foiled in other metro of St. Petersburg; a bomb that was said several times stronger than the first one.
Meanwhile, Russian citizens have put flower rings near the subway in commemoration of the victims.
It is noteworthy that during the past two decades, Russian trains and planes have been targeted and Islamic rebels have been blamed in this regard.
St. Petersburg incident, also brought international condemnation; President M. Ashraf Ghani also strongly condemned the attack yesterday in Russia, by publishing a message.