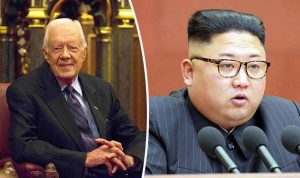 Former US president Jimmy Carter suggested a different approach to North Korean leader Kim Jong-un, he wants to talk peace.
Unlike the American president Donald Trump who talks trash, former President Jimmy Carter wants to take a different approach with North Korean leader Kim Jong-un: He wants to talk peace.
Carter wants to revise a role he played in 1994, when he visited North Korea and helped reduce tensions between then-President Bill Clinton and the North Korean state, said a University of Georgia professor who met with Carter recently, Korea JoongAng Daily reported.
"Carter wants to meet with the North Korean leader and play a constructive role for peace on the Korean Peninsula as he did in 1994," Park Han-shik told the newspaper. "He wants to prevent a second Korean War." Quoted from Newsweek.
Carter traveled to Pyongyang in June 1994 when Clinton and then-leader Kim Il Sung were in a standoff over the North's nuclear ambitions. Clinton had drawn up a plan to strike a nuclear reactor in Yongbyon, but Carter got North Korea to put its nuclear program on hold.