French president Emmanuel Macron will get a special visit from India.
---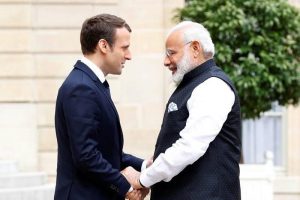 French president Emmanuel Macron will get a special visit from India.
After the Justin Trudeau visit, which was marked by a distinct absence by Modi, it is important to emphasize how other global leaders get the Modi treatment.
The visit comes after the Indian PM Modi reaffirmed India's commitment to stay with the Paris accord — even go beyond it — an important vote of confidence after Donald Trump summarily walked away from the 2015 climate pact.
But in India, Macron will do other fun stuff — he and his wife will get a private tour of the Taj Mahal, and hold a private cocktail reception with a selection of Indian artists at a studio outside Delhi.
According to Times of India, "the president wants to meet the people who are taking this country forward." Therefore, a town hall meeting with students from across the country on Saturday, and a 'knowledge summit' with innovators and thinkers will be held as well.
Marking two decades of their bilateral strategic partnership, attending the founding ceremony of the International Solar Alliance on Sunday in New Delhi, inaugurating a solar energy project in Uttar Pradesh besides a visit to Modi's parliamentary constituency—Varanasi—on Monday are the other elements of Macron's visit, a person familiar with the development said.
What is going to be discussed during the visit is the bilateral aspect of cooperation between the two nations.