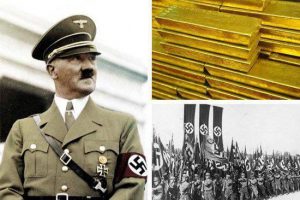 British boat crew have discovered a chest containing Nazi gold in a German shipwreck that sank shortly after the Second World War.
The value of the box, full of gold, possibly belonging to the Nazis, is £100M.
The crew of Advance Marine Services have discovered four tons gold inside the sinked-SS Minden.
It is believed that the gold was from South American banks.
The SS Minden set sail from Brazil on September 6, 1939 just days after the outbreak of World War Two.
However, Adolf Hitler ordered the ship's captain to deliberately sink the ship after it was spotted by British cruisers amid fears the Royal Navy would seize the valuable cargo.
The Icelandic Coast Guard Council accused members of the team that they were carrying out search operations along the coast of Iceland without a permit from Icelandic authorities.