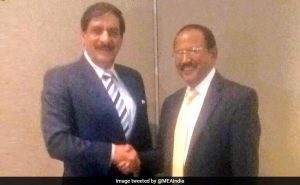 The National Security Advisors (NSA) of India and Pakistan have held a "secret" meeting in Thailand, a senior Pakistani official said Monday.
According to a Pakistani newspaper Dawn, an official from Pakistan's national security division, on the condition of anonymity, said the meeting between National Security Advisor Ajit Doval and his Pakistani counterpart Lt Gen (retd) Nasser Khan Janjua took place on December 27 in Thailand.
The newspaper quoted the Pakistani official as saying, "The meeting was good. Ajit Doval's tone and tenor was friendly and positive." The official also told the Pakistani newspaper that he had been briefed about the meeting.
He said he was told that the meeting was useful and even claimed that it might help in restarting some sort of engagement at the diplomatic level as well, the report stated.