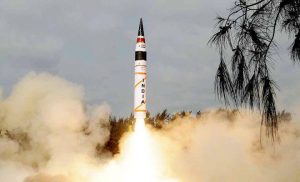 India has successfully test-fired its Agni-v intercontinental ballistic missile (ICBM) on Thursday.
According to Times of India, the missile tested in Abdul Kalam Island off the Odisha coast, taking another step forward toward its eventual induction into the Strategic Forces Command (SFC).
The Agni-V is a three-stage,solid-fueled missile with a range of about 5,000 km. It is 17-metre long, weighs over 50 tonnes and capable of carrying a 1.1 ton payload.
There was no immediate word on whether the first "user-trial" of the nuclear-capable Agni-V missile, which can even reach the northern-most parts of China with its strike range of over 5,000-km, had met all the parameters laid down for the test.
This comes as the Pakistani navy successfully test-fired an anti-ship missile from its Sea King helicopter in northern Arabian Sea on 23 September 2017.