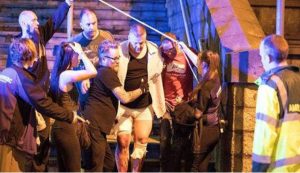 One day after a suicide blast near a concert hall in Manchester, north of Britain. The Islamic State (ISIS) has claimed responsibility for the explosion.
Radio Farda quoted by Reuters wrote: Daesh said in a statement that the explosion was conducted by an explosive device, placed at the site of the concert.
"One of the caliphate's soldier succeeded to place the explosive device among the congregation of crusaders in Manchester city," Daesh said in a statement.
ISIS wrote: the blast was done to "revenge for Allah's religion and to terrorize the unbelievers and in retaliation for their attacks against the Islamic lands" and threatened that more attacks are on the way.
The ISIS internet media, known as (Amaq), has also claimed in a report that the bombing has been conducted by a "security team."
The blast occurred Monday evening when Ariana Grande concert, American singer was over and people were moving out of the hall.
The explosion killed 22 and wounded 59, many of whom are teenagers or children.