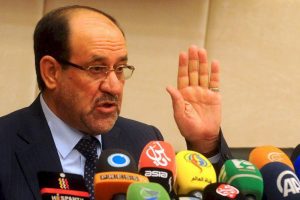 Yesterday (March 23rd), former Iraqi vice-president and Prime Minister, warned about the outbreak of world war in the region, at a convention in Karbala.
On Friday, Nouri Al-Maliki in a speech to the conference on the establishment of 'International Union of Muslim women" in Karbala said, Muslim world has spent inflammatory conditions and due to interventions and ongoing conflicts, one fears that a global war takes shape. Quoted from foreign media.
He added in the remarks that "Afaq" news network – news organization headed by Al-Maliki's State of law coalition, has published that it is the duty of all to scandalize those who hid behind the clothing of religion and use Islam as a tool.
According to Al-Maliki, "These were the people who created Daesh terror group from different tribes and religions as the name of Islam to destroy countries and kill the people."
"Enemies are always trying to stir up sedition among Islamic sects to divide Muslims and it is necessary to stand up against rebellious and hateful factors who damage the Islamic lands as the name of religion." Iraq's vice-president added.