Latest News
World
It's time to end occupation of Palestine by Israel: Mahmoud Abbas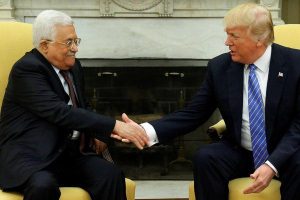 Mahmoud Abbas, leader of the state of Palestine during a joint press conference with Donald Trump, American president at the White-house, declared that it is time to put an end to Israeli occupation of Paletine.
"We want peace through a two-state solution," Palestinian leader said. Quoted from (Anatoli).
Meanwhile, Donald Trump during a joint meeting with Mahmoud Abbas at the White-House said that he is willing to witness the two states' efforts and signing the peace agreement between the two sides.
Donald Trump in a visit with Mahmoud Abbas said that he is committed to the achievement of peace with the cooperation of Palestinians and Israel.
It should be noted that yesterday, the United Nations also criticized about the occupation of some Palestine soil by Israel and considered it occupation action.