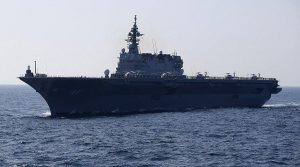 The Japanese helicopter carrier is set to depart Yokosuka port in Kanagawa Prefecture to Monday to escort the US Navy supply ship from waters off the Boso Peninsula, near Tokyo, to the area off Shikoku, one of the four main islands of Japan.
Japan has reportedly deployed a helicopter carrier and authorized it to use weapons, if necessary, to escort and protect a US supply vessel. The mission, performed under the country's expanded military doctrine, marks the first such mission since WWII.
Japanese media reports that the US ship could be delivering supplies to the aircraft carrier – the USS Carl Vinson striking group, that is now conducting a joint exercise with South Korea's navy in the Sea of Japan. Quoted from foreign media.
North Korea has threatened to sink the Carl Vinson and a US submarine, amid rising tensions in the region.
It also carried out a failed missile test on Sunday, despite repeated warnings from the US and others to stop its nuclear and missile activity.
The 249m-long Izumo can carry up to nine helicopters, and resembles US amphibious assault carriers, reported The Japan Times.
The Izumo is the first warship deployed outside of military exercises under new laws passed in 2015 that allow Japan to come to the aid of an ally under attack known as "collective self-defense".