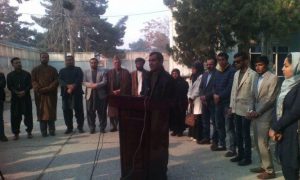 Journalists and civil activists of Balkh province condemned the attack on a gathering held in Kabul by fans of Ata M. Noor, calling on the government to provide the security of journalists.
Last week, 14 people were killed and 20 others wounded during a suicide attack on a gathering where fans of Ata M. Noor attended to honor him, in which a journalist was also among the dead people and one other injured.
Journalists and civil activists in Balkh province gathered at the provincial council to condemn the assault Monday morning.
"The attack indicates that journalists are still unsafe and terrorists are trying to silence the voice of freedom of speech," head of the journalist security committee Bashir Ansari told DID newsa agency.
Meanwhile, the deputy to Balkh's provincial council Sayed Abdullah Masroor said Afghan people have the right to hold such gathering, asking the central government to ensure the security of the gatherings and meetings.
"The process of asking for justice will not turn off by such attacks, and Balkh's provincial council strongly condemns the assault.
Shafe Rahimi who attended the gathering as a representative of media family expressed regrets over the incident, and said: "journalists are proud of giving losses beside the country's army, but have not missed the flag of freedom."
According to the security committee of journalists, 13 members of the media family members have lost their lives this year (solar year). In general, 125 violent measures have taken place against the journalists of the country, which 35 cases have resulted in injuries to the journalists.