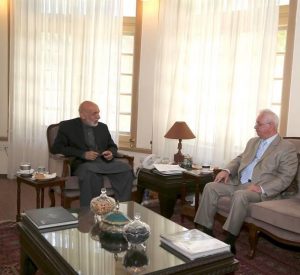 Hamid Karzai, country's ex-president considered Russia's role effective in providing peace in Afghanistan at a meeting with Alexander Mantytsky, the Russian ambassador in Kabul and stressed that Russia can invite armed oppositions to peace.
According to (DID) news agency report, Mr. Karzai has discussed political status of Afghanistan and the region in a visit with the Russian ambassador in Kabul, according to a statement released by Hamid Karzai's press office.
On the other hand, Alexander Mantytsky has said, referring to the sensitive situation in the region and Afghanistan that his country is committed to establishing peace and stability in Afghanistan and tries to cooperate with the government of Afghanistan in this regard.
Karzai visited Mantytsky while accusations were posed that Russia supports Taliban; charges that Moscow considers it unfounded.