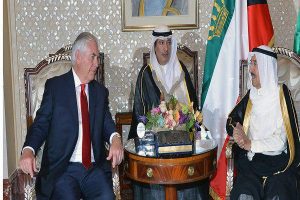 Kuwaiti Interior Minister Mohamad Abdullah al-Sabah, US Secretary of State, Rex Tillerson and Qatar Foreign Minister, Mohammad bin Abdul Rahman Al Thani discussed recent changes of Persian Gulf crisis during a meeting in Doha.
The international and regional reflections of the Gulf crisis, Kuwait's mediation efforts, international approaches backing to end the problem, maintaining countries' interests and stability in the region had been the most important issues in the debate.
Tamim bin Hamad al-Thani, the Qatari emir also attended the meeting held at the Al-Bahr Palace in Doha.
It is worth mentioning that Qatar's neighboring Arab countries have cut off all their diplomatic ties with this small Arab League member state last month.