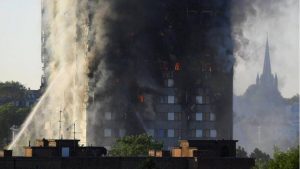 Dozens injured and others trapped in a blaze at the tower block in Latimer Road, near Notting Hill, that broke out in the early hours.
Firefighters were battling to rescue people trapped inside a 24-storey tower block in west London this morning hours after a huge fire broke out and swept through apartments.
The fire at Grenfell Tower on Latimer Road near Notting Hill started shortly before 1am on Wednesday.
The London Ambulance Service said 30 people had been taken to five London hospitals. Two hundred fire fighters were at the scene along with 40 engines and at least 20 ambulance crews. Quoted from (The Guardian).
The statement said the fire reached from the second story of the building to the top and the cause of the blaze was not yet known.
The London mayor, Sadiq Khan, said in a brief statement on Twitter that it was a "major incident".