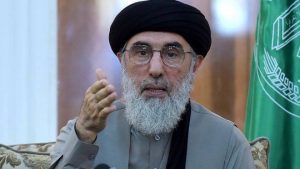 The leader of Hezb-e Islami Gulbuddin Hekmatyar and the election commission say at a press conference that there is no need for hundred Hezb (political parties) and two or three parties ares enough for the upcoming election.
According to DID news agency report, Mr. Hekmatyar who attended a joint press conference with the election commission, says hundreds of parties are not needed for the upcoming presidential election and two or three parties are enough.
"Each party should introduce the list of its nominees to the election commission, in which women should also be present," leader of Hezb-e Islami stressed.
He criticized previous election processes in the country, saying that some people have unfairly entered the parliament.
It is noteworthy that Hezb-e Islami stresses on holding the election on time.