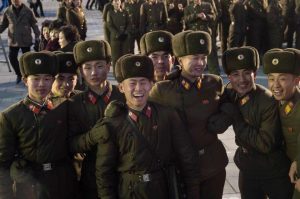 North Korean state media reported that people in Pyongyang have taken to the streets to celebrate the successfully launch of a ICBM with street parties and fireworks.
The official Korean Central News Agency reported Thursday that "dancing parties" had broken out in the capital and that there was "great joy and excitement" among government employees and civilians because of the previous day's launch.
According to WP, thousands of people were shown on the streets of Pyongyang watching fireworks displays.
"Kim Jong Un declared with pride that now we have finally realized the great historic cause of completing the state nuclear force, the cause of building a rocket power," said the statement, which was read on state television after the launch.
North Korea fired another intercontinental ballistic missile (ICBM) on Tuesday which flew longer and higher than previous missiles.
The move was an act of defiance against President Trump after he put the country back on a list of state sponsors of terrorism.