Pakistani military awaiting the day when the United States leaves Afghanistan and Pakistan's armed allies once again dominate Afghanistan.
---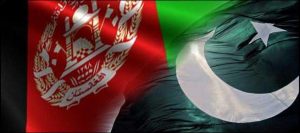 While Afghanistan and Pakistan are discussing to finalize the Action Plan for Peace and Solidarity (APAPPS) document, Pakistani military forces fire at Afghan security forces along the border. The border conflicts indicate that Islamabad is not serious in finalizing the APPS document between the two countries. If they were serious, then, they would not open fire along the borders. Actually, it points out that Pakistan wants negotiations to reach a deadlock. Pakistan certainly wants to take more points from the International Community and Afghanistan, but this approach is not beneficial.
What president Ghani says, Afghanistan believes in constructive dialogue. Despite, Pakistan backs up Taliban group, Afghanistan agreed to negotiate with that country. Afghanistan has shown to the world that it is by no means an adventurous country and believes in regional security and bilateral cooperation. But this is Pakistan that creates troubles and seeks to gain benefits.
It is time for the International Community to level up pressure on Pakistan. The United States should limit Pakistan's access to international monetary and financial institutions so that Pakistan's economy feels the pressure. Pakistani forces will not cooperate with the world and Afghanistan as long as the country's economy does not feel a serious pressure. The United States has a lot of options. Blocking Pakistan's access to international financial institutions, stopping the flights and officials' travel from Islamabad to the United States, reducing the volume of trade ties, and so on, are options that increase the pressure on Pakistani political and military people, forcing them to cooperate.
Islamabad still thinks it can control Afghanistan. Pakistani military circles think the presence and pressure of America and NATO are temporary and that they will abandon Afghanistan. Pakistani military awaiting the day when the United States leaves Afghanistan and Pakistan's armed allies once again dominate Afghanistan. Pakistan has invested on a group in Afghanistan that believes in a non-selective and ideological government and uses intimidation, killing and assassination to achieve this goal. Pakistan does not say it is proud of its alliance with the Taliban, but everyone knows that Pakistani troops are waiting for NATO withdrawal to reinvigorate the Taliban.
Pakistan does not want to give up Indian security policy against Afghanistan. Sometimes, it sends its general commander and sometimes its Prime Minister to Kabul, but not serious anymore. Border conflicts indicate that Pakistan only squanders the time. Efforts to finalize the APAPPS document is also the same. If it was serious, then it would not break up border conflicts. It means negotiations have no value for Islamabad. It only turned to talks to deceive America and the International Community. The government of Afghanistan should take this into account. Afghanistan should never be enthralled because it will impose more hardships on the people of Afghanistan. "Pakistan is not serious" should be the dominant mentality in the Afghan government, unless its contradictions are clearly proven. Pakistan continues the sabotage, fire, backing Taliban and wasting the time and has not shown the slightest sign of changing the approach.
Faramarz Dawlatabadi – (DID) press agency
Translated by Zaher Mahjob