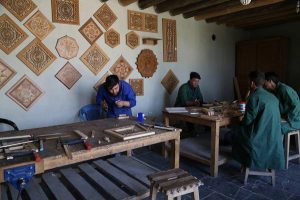 Murad Khane is a historical district of Kabul. When you enter this part of Kabul, you feel very strange. You think you came to a place other than Kabul. Houses and stores that are there have a strange facade. It looks like a cinematic town than a place for Kabulis to live.
Ferozkoh is a foundation, located in this part of Kabul.
According to Zabihllah Noori, director of communications and reporting of the foundation, King Timor Shah gave this area to a person, called "Muradkhan" – who was a Turk – as a gift after transferring the capital from Qandahar to Kabul. This area is known as "Murad Khane" then.
Ferozkoh foundation has started its activity several years ago. The foundation has many parts, including Ferozkoh institution. The institution works in various parts and three-year training classes are held in these parts.
Wahid Khalili, head of Ferozkoh institute said; this institution started its activity in 2006 which was registered as training NGOs to the ministry of economy. Later, in 2009, it was registered as an official institute under the ministry of education.
Khalili says that at first, the institute had three educational departments, calligraphy, and miniature, ceramic and working with wood, and 2007 goldsmith and engraving departments were created too. "All raw materials which are used in their productions are provided inside Afghanistan," he said. Woods are provided from Archa and walnut wood of Kunar and Nuristan provinces. Badakhshan's emerald is used for staining and engraving and ceramic stones are provided from Ghorband, Logar, and Istalef places.
Students are enrolled in the institute through entrance exam. According to Ferozkoh CEO, graduated students from 12th grade are absorbed in calligraphy and miniature departments, but in other parts, they are registered after the end of secondary school. 120 girl and boy students are studying in the institute.
The institute has held great exhibition abroad which has been noted as well. Mr. Khalili says that our exhibitions made world's creditable universities to send an educational invitation to our students, so that they can continue their education and their artworks.
Labor market and sales
According to Khalili, their labor market is better abroad. He says that more than 80 percent of those who graduate from Ferozkoh are working now.
This institute provides locations and equipment for their graduated students.
Khalili is unsatisfied about the situation of the labor market in the country. He says that free market and importing low-quality goods has decreased domestic productions. Domestic productions are high-priced due to high-quality, but imported goods are sold cheaper due to low-quality. But recently, their attentions are increased on domestic productions and they try to use this production for decorating their homes.
Kalili says that global market has very good applicants. For example; a large part of the Canadian parliament hall is decorated by the works of our students. In addition, we have designed the Afghan embassy in Japan. According to Khalili, the institute has decorated and designed a five star hotel which has 25 floors, located near Mecca.
The domestic market in the country has always faced a lot of difficulties due to various reasons. Free market and lack of government control over the imports are the major reasons that hinder domestic productions. On the other hand, economic problems made the people to less follow quality. Although domestic productions are not good inside the country, but it has more applicants overseas.
Khalili hopes that economy gets better by creating job opportunities and low-quality and fake goods fall-down in the country, on the other hand, comsumers of domestic productions increase in the country.
Maryam Nabawi – (DID) press agency
Translated by: Taher Mojab