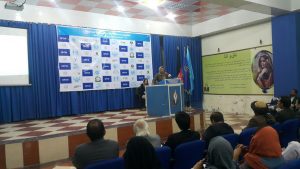 A peace conference was held by Mash'al University, transparent election foundation of Afghanistan (TEFA) and some other institutions on Sawr 10th (April 30th) in Kabul province.
Ms. Habiba Sarabi, a member of the high peace council was the main speaker of the program at the conference.
Ms. Sarabi mentioned the security and economic situation which is underway in the country, and said: "if people do not have a good economy status and if people do not have an equal wealth, peace would not be prevailed in the country and if "peace" would not be felt in social and cultural fields as well, the disputes will remain the same."
"We have been busy forming peace strategy program at the high peace council and the strategy was with three negotiation axis, national, regional and international consensus and promoting peace culture," the member of high peace council added.
She complained about the president's actions and said that a guideline was given to us directly by him, and responsibilities were taken away from the high peace council.
"Therefore, practically, we do not have any control on peace strategy," Sarabi said.
She also pointed to gender discrimination and said that there are two deputies in the secretariat and the third deputy will be added soon, but none of them are women; in all, the high peace council is composed of 82 men and 2 women.
It should be noted that Naeem Ayubzada, head of transparent election foundation of Afghanistan (TEFA) and Fazel Ahmed Manawi (former head of the election commission of Afghanistan) were the other main speakers of the program.