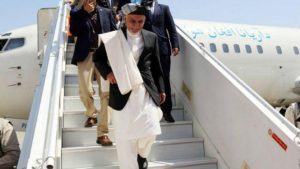 Today morning (Monday, 3 July), president of Afghanistan, Mohammad Ashraf Ghani went to Ashgabat, the capital of Turkmenistan to meet Turkmen officials.
Mr. Ghani will meet with Turkmen President, Gurbanguly Berdymukhamedov and will discuss the expansion of relations between the two countries, according to ARG's (presidential palace) statement.
The presidents of the two countries will sign cooperation agreements which the provisions are not specified, the statement said.
Yesterday, Mr. Ghani said, speaking with the representatives of the people of Kandahar that he would talk with Turkmen authorities on transferring Turkmenistan's power to Kandahar.